TV has been with us for just shy of a century. In the near 100 years since Scottish engineer John Logie Baird gave the first public demonstration of his magical "Televisor" machine, advances have come thick and fast as TV grew into the world-dominating entertainment medium we know today.
From drama's first transgender character to Britain's first Black presenter; from the first childbirth to the first Westeros death, there has been milestone after milestone. We tracked down 10 TV trailblazers to hear their stories. These are the pioneers who did it first on-screen. If they're not already a pub quiz question or proud owner of a blue plaque, they deserve to be.
'I was half of British TV's first lesbian kiss'
Actor Alison Steadman, now 77, kissed her female co-star in 1974's one-off BBC drama Girl.
Girl was a simple love story about an affair between female army officers. It was all shot in one take. I'd done lots of theatre so was used to that. Mainly I was nervous about the kiss. [Co-star] Myra Frances was too, so we bonded over that. The clever thing director Peter Gill did was not make any fuss. He's gay himself, so wasn't bothered. During rehearsals, he'd say 'Quick kiss, that's it, now carry on', which took the pressure off.
The first time we didn't even kiss properly, just touched lips. As we got to know each other and became more confident, it developed. The producer David Rose came to rehearsals to check it didn't go too far, especially our bed scene. He worried there'd be naked groping but we were just chatting and smoking. He went away happy.
The worst thing was imagining how my parents would cope. They were quiet people in suburban Liverpool. They were thrilled I was doing well, not so thrilled about seeing me snog another girl on TV. Looking back, it seems ridiculous that anyone made a fuss. No one gives a damn now. Men kissing, women kissing, it's all fine, thank goodness. I only realised it was the first lesbian kiss after it aired. The next one wasn't until Brookside 20 years later. Everyone said Anna Friel's was the first. I was stomping around, a bit annoyed, going: 'No, it isn't! Me and Myra Frances were first!'
'I was the first death on Game of Thrones'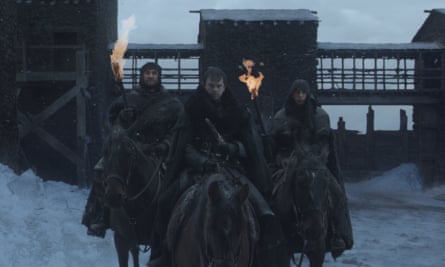 'Don't make a cuppa or you'll miss me' … Rob Ostlere (centre) in Game of Thrones. Photograph: HBO
Actor Rob Ostlere, now 39, played Night's Watch ranger Waymar Royce in 2011's opening episode of Game of Thrones.
When I came out of Rada, everyone was auditioning for this big new show. I tried out for several parts, coming close to getting Theon Greyjoy and Viserys Targaryen, but was offered Waymar Royce. I only last six minutes but it's a nice six minutes – a self-contained wintry horror. Just don't make a cuppa or you might miss me.
I got taught to ride a horse but they used stuntpeople for most of it. I couldn't grow a beard but they wanted Waymar whiskery, so I used this rubbish beard mascara. We filmed in Tollymore Forest Park, which they carpeted in fake snow, with prosthetics of dismembered corpses on the ground. The director, Tim Van Patten, kept saying: 'Be more arrogant!' That's always fun.
A White Walker rises up behind me and kills me. They dug a pit for the actor with a hydraulic lift inside but it wouldn't work. I had to turn and look terrified but every time I did, his head would be at knee height, which was ridiculous. Eventually they abandoned the hydraulics. He just bent his legs and rose up from a squat. Very lo-fi for such a big-budget show. My parents proudly tuned in, but the scene after mine involved periods and blowjobs. They were aghast.
People still ask for signed photos and send fan art. It's a great thing to have on your CV. Around 175,000 characters die overall, so I set the tone for what was to come. I was the first death and Queen Daenerys was the last, which feels about right. It might've been better for my career the other way around!
'I was the first Top Gear presenter'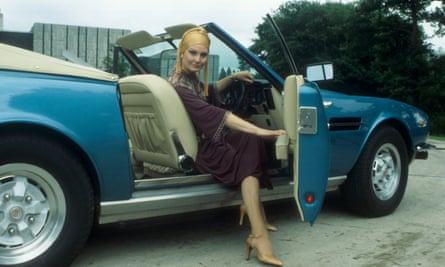 'It was properly journalistic back then' … Angela Rippon presenting Top Gear in 1978. Photograph: BBC
Newsreader Angela Rippon, now 79, presented the first two series of Top Gear from 1977.
I ticked all the right boxes. As a journalist at Westward Television, I'd done lots of motoring reports. I was also commuting in my Ford Capri from Devon to Birmingham or London. I did so much driving the AA gave me a monthly column. As well as the Capri, I've owned an original 1960 Mini Cooper, an MGB GT, a Saab 900 Turbo, a Mazda convertible. I really do adore my cars.
A woman fronting a motoring show was a talking point. There was a lot of sexism around but back then, Top Gear was properly journalistic. I was always interviewing the minister for transport. We did films about accident prevention, driving laws and car design. It wasn't about women drivers. I was just a driver, representing anyone who got behind the wheel. These were the halcyon days before social media. The mailbag was very positive.
Top Gear became known for stunts later, but I did my share. I went ice-driving in Sweden and drove a lorry down an unopened stretch of the M62. A segment on skid pans saved my life. One winter's night, I hit a patch of black ice and went into a full 360-degree spin on the motorway. I saw a lorry's headlights bearing down but I didn't panic, remembered the techniques I'd been taught and made it to the hard shoulder. I sat in the car, shaking. It was a scary near-miss but I learned a lot doing Top Gear.
Later incarnations were totally different – more macho, entertainment rather than journalism. It morphed into "toys for the boys". It's a shame there haven't been more female presenters. Women make up 50% of the driving population and the show's still got a huge female following.
'I performed the first dance on Strictly'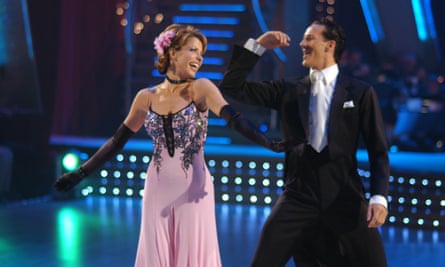 'I was petrified' … Natasha Kaplinsky and Brendan Cole in Strictly Come Dancing. Photograph: BBC
Newsreader Natasha Kaplinsky, now 51, opened the first ever episode of Strictly Come Dancing in 2004.
They had to twist my arm to take part. I'd fought to be taken seriously as a journalist. Would I dance live on TV? Absolutely no! But they wore me down. I even tried to get out of it by injuring myself. At my first lesson with [professional dance partner] Brendan Cole, I told him he was getting way too close. I attempted social distancing long before Covid!
They told us we were performing first a day before the show. I was petrified. I'll never forget standing at the top of those stairs, wearing a pink beaded dress, hearing them announce 'Couple No 1!' I thought I was going to be sick.
Midway through my routine, something flew off my outfit. It was only afterwards that I realised with huge relief it was my necklace. I suspect the judges were gentle because they knew I could walk at any point. Well, except Craig Revel Horwood, who said: 'Dull, dull, dull!' The standard is much higher nowadays. I wouldn't last long. I kept my head down in the BBC newsroom, hoping nobody had noticed, but got a mountain of amazing cards from viewers. The downside was that it took me into tabloid territory. My phone was hacked, which I found difficult.
As the series progressed, I kept saying: 'Please don't vote for me.' People thought it was a strategy but I meant it. Somehow we ended up winning which was astonishing. I've still got the trophy but it's not in the best of order. I've written to The Repair Shop asking if they can fix it.
'I was Britain's first Black TV presenter'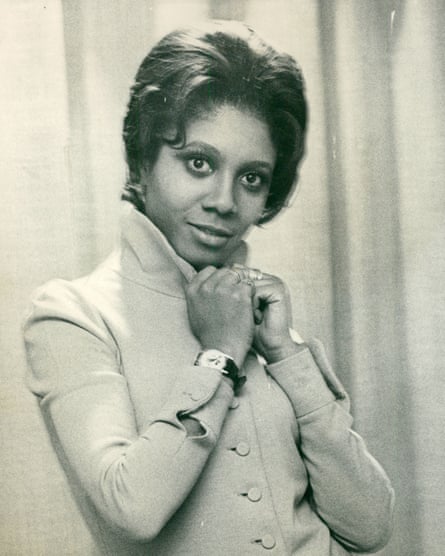 'All the complaint letters hurt' … Barbara Blake Hannah. Photograph: ANL/Rex/Shutterstock
Anti-racism activist and author Barbara Blake Hannah, now 82, became British TV's first Black on-camera news presenter in 1968.
When I arrived in the UK in the swinging 60s, opportunities were opening up. After writing for newspapers and magazines, I applied to be a reporter on Thames TV's evening news programme. I became the first visibly Black TV journalist in Britain. A fellow Jamaican, Eric Anthony Abrahams, had been hired by the BBC a few years earlier but he had paler skin and TV was black-and-white back then. It's a common misconception that Trevor McDonald and Moira Stuart were first but I don't mind. They deserve their praise.
When I roamed the streets with a camera, no one cared I was Black. They only cared about being on TV. I reported on crime stories, the Beatles, interviewed Michael Caine and Harold Wilson. But after nine months, I lost my job. The official excuse was 'I didn't fit in with the programme' but a producer showed me complaint letters saying: 'Get that n****r off our screens.' It hurt, not least because the government had just passed the Race Relations Act. Thames TV [which ceased to exist in 2003] could have told the racists they'd be breaking the law by sacking me. Instead, they sided with them.
Six months later, I was hired by ATV in Birmingham but local hotels wouldn't let me stay. I had to commute from London until I found a room at the YWCA. I was sent out filming one bitterly cold day, only to find out that Enoch Powell had agreed to a studio interview on condition that 'the Black girl' wasn't there. I wish I'd been around to ask him some tough questions.
It all changed my view of England as 'the Mother Country', showing me how deeply entrenched racism is. I returned home in 1972 to live as a Jamaican, rather than a Black Britisher. Yet I look back with pride. I showed myself capable of doing a top-level job in journalism. My brown skin enabled me to make history. I'm always happy to see Black presenters on TV today. If I played any part in paving the way, I'm even happier.
Barbara Blake Hannah has written about her TV experiences in Growing Out: Black Hair and Black Pride in the Swinging Sixties (Penguin, £10.99)
skip past newsletter promotion
Get the best TV reviews, news and exclusive features in your inbox every Monday
","newsletterId":"whats-on","successDescription":"Get the best TV reviews, news and exclusive features in your inbox every Monday"}" config="{"renderingTarget":"Web","darkModeAvailable":false}">Privacy Notice: Newsletters may contain info about charities, online ads, and content funded by outside parties. For more information see our Privacy Policy. We use Google reCaptcha to protect our website and the Google Privacy Policy and Terms of Service apply.
after newsletter promotion
'I got the first Hollywood handshake on Bake Off'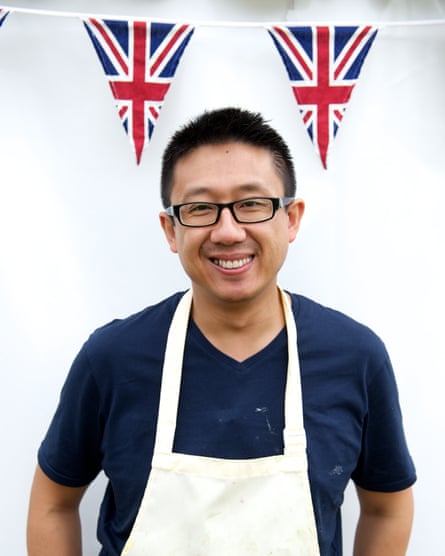 'My lardy cakes touched him' … Ryan Chong on Bake Off in 2012. Photograph: Love Productions 2012
Ryan Chong, now 49, competed in series three of The Great British Bake Off in 2012.
I wasn't a true baker, more of a cook. To my surprise, I ended up getting through, so had to learn as I went along. I practised like mad. My wife wasn't happy because the kitchen was a mess constantly.
Episode seven was sweet dough week. The signature round was lardy cakes, which I'd barely heard of. Hollywood handshakes weren't a thing until then, so it hardly registered as an accolade. Sue Perkins remarked that Paul had gone quiet, saying: 'The silverback is silent!'
I don't recall much about the handshake itself, expect that it was quite firm. He's a bread man and lardy cakes are a bread product. I got the impression mine reminded him of his youth and touched him on some level.
My overriding emotion was relief. Because Paul was pleased, I thought I'd survive another week. The irony was, I didn't. I changed my showstopper at the last minute, underbaked it and got eliminated. I was distraught.
'I played TV's first transgender character'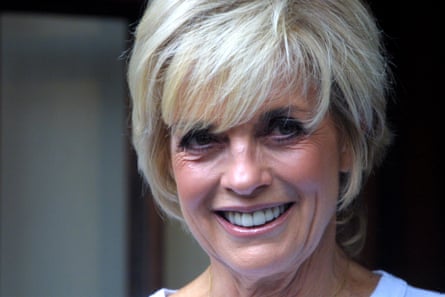 'I never saw her as unusual' … Linda Gray. Photograph: Garry Weaser/The Guardian
Actor Linda Gray, now 83, played transgender fashion model Linda Murkland in 1977 US miniseries All That Glitters.
I'd done modelling and ads but nobody knew who I was when I auditioned. Producer Norman Lear was – and still is, he just turned 101 – way ahead of his time. He said I was perfect for the part. I asked why he'd cast me as a transgender woman and Norman replied: 'Because you're so feminine.' I still don't know if that was a compliment or not! I was determined to portray her with respect, so asked to meet a trans woman for research. Norman flew this woman down from San Francisco to spend a day with me.
I had a pad full of questions. At first she was cautious but we talked for hours. She told me all about transitioning – the therapy, medication and procedures she had. We discussed everything from restrooms to electrolysis. She told a funny story about taking her car into the garage as a man, then as a woman, and being treated differently. I really felt her frustration about not fitting in, feeling like she was born in the wrong body and the struggles she went through.
I never saw my character as unusual. Many people don't ever figure out who they are. In a way, Linda had more focus than most. She knew exactly who she wanted to be. She married her [cis male] love interest in the finale. Viewers loved her. I got lots of fanmail.
The woman from San Francisco said I did a good job, which was sweet. Playing Linda expanded my horizons. I landed the Dallas job straight after. By comparison, Sue Ellen was easy to play.
'I was the first Scandi TV detective'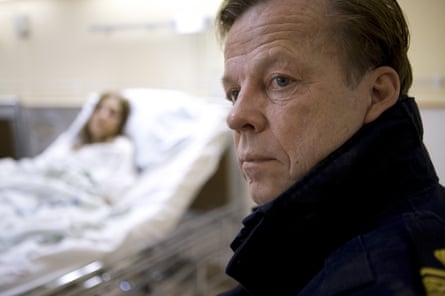 'The salary kept getting higher. Finally, I relented … ' Krister Henriksson as Kurt Wallander. Photograph: PR
Actor Krister Henriksson, now 76, played Kurt Wallander in the original Swedish series from 2005 to 2013.
I was a respected theatre actor in Sweden and had worked a lot with Ingmar Bergman. He told his son-in-law, novelist Henning Mankell, that he should ask me to play Wallander. To Henning's surprise, I refused. He gave me the books and begged me to read them. I thought they were rather boring but liked the lead character: a divorced workaholic who drank too much, just like me. I still said no. Every time I did, the salary went higher. Finally, I relented.
We made 32 films but called it a day when Henning got cancer. On impulse, I suggested giving Wallander dementia, so he could never come back as an inspector. I regret that. It was a silly decision, made when Henning was ill from chemo and I was fed up.
I'm proud of our films and glad I got to know Henning – when he passed away, a bit of me passed away. There was drama behind the camera – divorces, drugs, suicide, death – so Wallander is bittersweet for me. The role changed my life. I earned a lot of money. Sometimes I wonder about making one more but I'm too old now. Maybe I could be Wallander's senior advisor.
'I spoke the first words on Channel 4'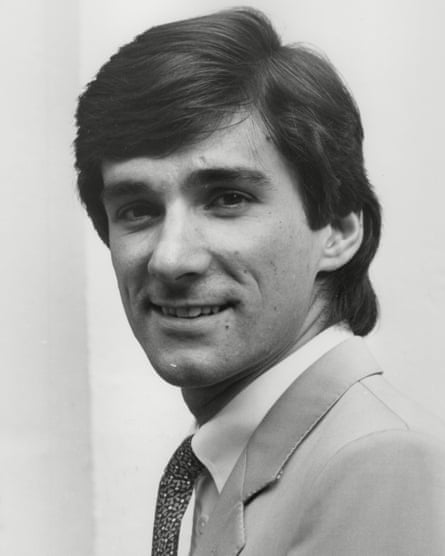 'I was a bit of rough' … Paul Coia. Photograph: Chris Barham/ANL/ Shutterstock
Journalist and presenter Paul Coia, now 68, was the first voice heard on Channel 4 when it launched in 1982.
My family thought I was daft when I moved down from Glasgow to become a Channel 4 continuity announcer. But in the run-up to the launch, the bosses pulled me aside and said, 'We'd like you to open the station.' It was a huge honour. I later discovered that when the government gave us the money, they wanted regional accents. My colleagues were quite RP. I was a bit of rough. One reviewer said I sounded like someone stuck in a boat off Leith.
I wrote my own script and can remember the line: 'Good evening. It's a pleasure to be able to say to you, welcome to Channel 4.' The first show I introduced was Countdown. Richard Whiteley and I became friends. We bonded over the fact that I was the channel's first voice and he was the first face.
Politicians and the world's press were there on launch day. It was broadcasting history. I've launched two channels since then – ABC Entertainment and the Travel Channel – but Channel 4 is the only one still standing. I returned for last year's 40th anniversary: 'Forty years ago today I said this and it's lovely to be able to say it again. Now it's time for Countdown!' I'm incredibly proud of being there at the start. I'm the answer to a Trivial Pursuit question. Who wouldn't enjoy that?
'I had the first live birth on TV'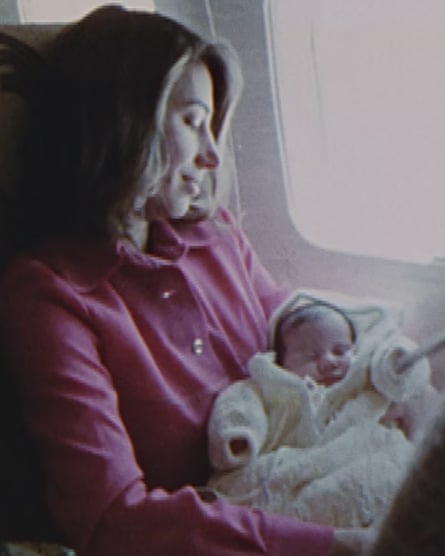 'I forgot the camera was there' … Joyce Chopra with Sarah in 1971. Photograph: New Day Films
Film-maker Joyce Chopra, now 87, filmed herself giving birth in 1971 for PBS documentary Joyce at 34.
I got pregnant aged 33, early in my career. I was scared I'd become a full-time mother and never make a film again. Stupidly I signed up to make a documentary a few months after my due date, so I'd be forced back to work. A friend said: 'Don't do that. You're in a unique position to make a film about becoming a mother.' I said: 'That's an absurd, narcissistic idea! Who makes a film about themselves?' Then I thought about it and decided to do a film about my marriage, who does the childcare, career v family – issues that never go away.
I was nine months pregnant by this point and hired a student, Claudia Weill, as camerawoman. There was mild panic when Claudia was unavailable the night I went into labour. Luckily, a backup crew showed up at the hospital, just in time to film the actual birth. It hurt a lot and I forgot the camera was there. As soon as our baby, Sarah, came out, the pain was gone instantly and I could see it like a director again. I didn't think in terms of being groundbreaking. It was more a desire to make a film all of my own.
A million people watched when it was shown on PBS, which felt unreal. We got great blurbs from Gloria Steinem and Shirley MacLaine. It won awards but after one screening I heard a guy say: 'I thought it was about James Joyce, not some ugly dame having a baby!' That put it in perspective. It's become a feminist classic and still gets shown at festivals. Every time, I tease my daughter and say: 'You were born again in Baltimore today.' She says: 'I've been born all over the world, mom.' Sarah is now 52 and a university professor. The Museum of Modern Art bought a copy of the film. We joke that she's in there among all the great paintings.
Joyce Chopra's memoir, Lady Director: Adventures in Hollywood, Television and Beyond, is out now (City Lights, £12.99)